The Nevada County Diaper Project announces the appointment of a new director, Denise Franklin Haynes, who will assume the responsibilities of founder and director, Cathy Fagan.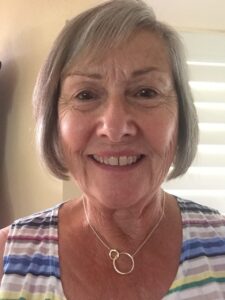 Denise has lived in Lake Wildwood full time for two years now and is actively involved in many of the clubs and activities in the community    These include Pickleball , Garden Club (2nd Vice President); Lake Wildwood Women's Club (raffle co-chair); Collectabelles; Bunco group, Book Club, and a weekly Prayer Group.
She came from Pleasanton, CA where she retired from the job of Office Manager for a CPA firm.  Denise and her husband John have a blended family; between them there are 6 kids and now 7 grandchildren (the light of their lives) ranging in age from 16 to 21 months, and they have two Standard Poodles.
Denise and John started the Zoomies Airport Shuttle Service 11 months ago, and between trips from Lake Wildwood to the Sacramento Airport they are active in Twin Cities Church and have delivered diapers every month to the various distributors throughout Nevada County.  Denise has been looking for a volunteer position and the NC Diaper Project fit the bill.
Volunteers willing to help wrap or deliver diapers can contact Denise at 925 998 4797.